Do you agree that all home owners should have lawn mowers in their sheds? In this article, I will talk about the lawn mower models I have used and disclose the best homeowner lawn mower.
When buying lawn mowers, I go for ones that are easy to use, reliable and have a sturdy frame.
With countless brands marketing numerous gas, electric and riding mowers, home owners are often confused about which model they should settle for. In this guide, I will review the various lawn mowers that give you value for your money.
Best Homeowner Lawn Mowers In 2021  – At a glance
The GreenWorks 25142 is, without doubt, the best homeowner lawn mower you could ever own. This corded lawn mower isn't just reliable, it delivers cleaner cuts compared to its gas-powered counterparts.
Even the toughest grasses are no match for its powerful 12-ampere motor. With a stout steel deck, it cuts across 16 inches of tuff at a time with perfection. It's collapsible handles help minimize on shed space while its push to start button makes using it a breeze.
This mower draws its power straight from the mains and you will never have to deal with rechargeable batteries that gradually lose their cutting power over time
Features & Pros:
It has a wide 16-inch cutting width
Lightweight (just 33.lb)
Facilitates mulching
Strong 10 Ampere Motor
5 Different cutting heights
Cons:
Requires long extension cords
If you prefer riding, tractor-like mowers, then the Troy-Bilt 382cc is the best homeowner lawn mower. Its rugged, mean-looking body offers unrivalled cutting performance.
Manoeuvrability is never a concern when using this compact size mower. The pedal-controlled transmission is easy to use even to first-timers. Thanks to its 18 and a half horsepower engine, this lawn mower never gets stuck when moving forward or reverse.
You will never come across a mower exceeding its 30 inches of cutting width. It's quite versatile too as you could adjust the cutting height with a convenient deck lever.
Features & Pros:
Durable 18.5 horsepower engine
Handles smoothly even on wet grass
Maintenance free steel design
Smooth height-adjusting deck lever
Supports multiple accessories
Cons:
Uncomfortable, flimsy seat.
If you have a small lawn and need to keep it in impeccable condition, then this eco-friendly lawn mower from Great States will be the best option. This reel mower is completely manual and isn't powered by an engine or motor.
No unnecessary exhaust fumes or noise. The padded handle is powder coated ensuring that it won't rust when exposed to harsh outdoor weather.
The heat-treated blades, on the other hand, stay sharper for longer. This compact mower is ideal to home owners looking for a maintenance-free, durable mower. It has a compact structure you could store it just about anywhere.
Features & Pros:
Fully manual, no fuel required
Compact, easy to operate and store
3-height adjustable cutting height
Unbreakable heat traded blades
Comfortable rubber grip reduces fatigue
Cons:
Unsuitable for mowing tuff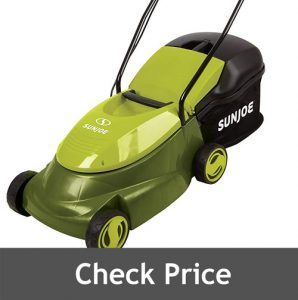 It doesn't make sense spending an arm and a leg for the best homeowner lawn mower when you have a small lawn. This is the main idea behind the Sun Joe MJ401E.
Though small and compact, this model gives bigger mowers such as the Troy-Bilt 382cc a run for their money. The blades on its deck are powered by a 12-ampere corded motor ensuring that it can comfortably cut through 14 inches of grass at a go.
With three levels of height adjustment, the mower's deck height is adjustable from a single lever. Unlike gas lawn mowers, the San Jose MJ401E doesn't require regular oiling or servicing. I noticed that it was a great, budget mower that truly gives value for the buck.
Features & Pros:
Powerful 12-ampere motor
Comes with a 100-foot extension cord
Clean cuts at 3500 rotations per minute
Adjustable cutting height
Detachable clippings collector
Cons:
The grass catcher fills up quickly.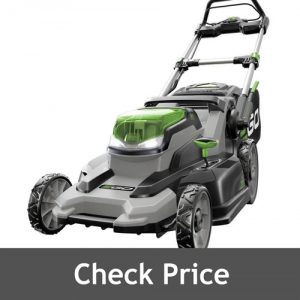 The danger in using a corded mower is that you have to mow carefully lest you cut the cord or (worse) get electrocuted. When designing this mower, Ego did away with the cable altogether and instead opted for rechargeable batteries.
On a single charge, this 21-inch cutting mower will give you 45 minutes of cutting time. Even when operating on battery power, it rivals gas lawn mowers when it comes to pushing torque.
With its 3 in one functionality, it's a mower, a mulcher and a clippings collector. On top of having 6 different cutting levels, this battery powered lawn mower has a push to start button too
Features & Pros:
45 minutes of cutting time
Relatively quiet
Cuts with high torque
Efficient push to start button
Cons:
Needs frequent recharging
Buying guide: What to look at when choosing a homeowner lawn mower
1. How it operates
Lawn mowers are classified into three categories depending on the type of energy they use. We have gas powered lawn mowers, electric ones and manual reels that need to be mechanically pushed.
Gas powers mowers are cheaper to maintain whereas electric lawn mowers may lead to higher monthly energy bills. Electric lawn mowers, on the other hand, emit lower noise but have reduced run times. It all boils down to personal preference (and what you can compromise on)
2. Push or self-driven mowers
Push lawn mowers require are mechanically pushed by the operator thereby reducing on energy usage. They may require higher muscular strength when mowing on hilly and uneven surface.
Self-propelled mowers are easy to manoeuvre but they give you lower cutting times on each gallon. Self-propelled lawn mowers generally run at adjustable speeds of between 1 and 3 miles per hour
3. How clippings are expelled
Again, mowers expel clippings in three ways. In side discharging lawn mowers, clippings are put back on the grass but it's often messy.
Bagging mowers collect clippings in chutes that you have to periodically empty while mulching lawn mowers cut clippings into smaller pieces and spread them over the grass surface. High-end lawn mowers facilitate changing between the three different modes.
Frequently asked questions
1. Why does my lawn mower stop running after five minutes?
Possibly, there's an issue with the carburettor. It is not delivering filtered air to the engine efficiently. You could use a carburettor cleaner solution but they're too aggressive and damage the carburettor seals. Instead, have it serviced by a qualified technician. They will clean it while removing clogged physical debris.
2. Why does a lawn mower make a grating sound when cutting height is changed?
The blade is out of alignment. This happens when the trimmer line squeezes the blade forcing it to rub against the deck. Have the lawn mower serviced. The technician will re-align the blades while replacing any missing bolts
3. Why won't my lawn mower start after being in the shed for long?
Chances are, the air assembly unit is blocked. Remove it and check for moisture inside. Set the lawn mower's switch choke to off and start the motor. This will ensure that air is drawn to the combustion chamber. Replace sparkplugs if they're worn out.
Related Reviews: