Why should every household have a lawn mower? There are many ways to getting the grass on your lawn trimmed. You could use a slasher or a sickle blade but most people still prefer getting lawn mowers. They're convenient, durable and cheaper in the long run.
I have had a chance to use a few good lawn mowers and, in this guide, I will be reviewing the ones that made it to my 'best lawn mower for cutting grass short' list. Here are 5 good lawn mower models you should consider.
Best lawn mower in 2021 for cutting grass short
| Product Name | Brand | Capacity | Price |
| --- | --- | --- | --- |
| 1. Greenworks 25022 lawn mower | Greenworks | 12amp | Check Price |
| 2. EGO Power+ lawn mower | EGO Power | 56V | Check Price |
| 3. Sun Joe MJ401E lawn mower | Sun Joe | 12amp | Check Price |
| 4. Husqvarna HU800AWDH lawn mower | Husqvarna | 190cc | Check Price |
| 5. Poulan Pro PR500N21SH lawn mower | Poulan Pro | 140cc | Check Price |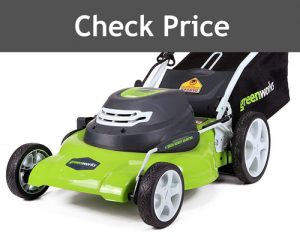 It's no surprise that this entry-level lawn mower made it to the top of my list as it's quite compact. With the right balance of features, pricing and functionality, the Greenworks 25022 is testimony that budget options sometimes outshine their pricey counterparts.
If you're looking for a small lawn mower to trim the grass on a standard lawn (less than an acre), it is your best option. It has a 20-inch-wide cutting berth. Even though this doesn't give it a record-breaking cutting width, it surprisingly gives clean cuts thanks to its 12-ampere motor.
Unlike gas-powered lawn mowers, the GreenWorks 25022 is corded and you will never have to deal with messy oil changes or disposing stale gas.
Features & Pros:
7-level adjustable cutting height
Foldable handle for compact storage
Weighs under 60 pounds
Agile at navigating flower beds and trees
Cons:
You can accidentally cut the power cord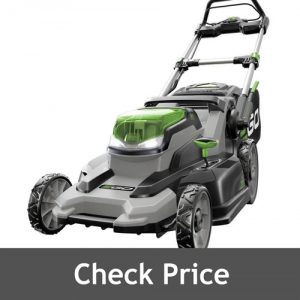 Ideally, the best lawn mower for cutting grass short should be battery or gas powered to avoid dealing with messy cords and this is why I loved the EGO Power+.
With its 4 Ampere Hour high capacity battery, it gives you up to 45 minutes of cutting time with every 30 minutes fast charge. You have to push the lawn mower as it's not self-propelling but a little weekend exercise will keep your muscles fit.
The rugged plastic external casing protects its delicate circuit board and motor from damage by adverse outdoor conditions. If you want a lawn mower that will give perfect trims from short grass and are intolerant to petrol fumes, then you should opt for this model
Features & Pros:
56V 4AH rechargeable battery
20-inch cutting deck
Easy to push (under 80 lbs.)
5-level height adjustment
Supports fast charging
Cons:
Requires frequent charging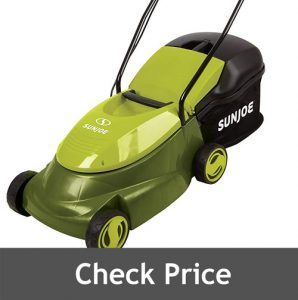 With a dark green paint coat (and occasional lime green accents), this compact lawn mower is ideal for cutting shirt grass. It has a 3-level height adjustment lever and truth be told; this will be an overkill when you're shopping for a lawn mower to trim short grass.
With a 12-ampere motor, it will effortlessly mash through tuff and even tough grasses. With its small rear and front wheels, navigating through flower beds and around trees will be a breeze. Budget lawn mowers rarely come with a clippings compartment and this is the Sun Joe MJ401E's biggest selling point
Features & Pros:
12-amp electric eco-friendly motor
14-inch cutting berth
Easy to push
Has clippings compartment
Cons:
The provided 100 meters cord is too short
This self-propelling lawn mower has 3 in 1 functionality in that it facilitates mulching, has a clippings compartment and could discharge cuttings sideways too. It has a one of a kind adjustable handlebar that can be locked at three different heights.
With its powerful 190cc Honda Engine, it has enough torque to mow at 3000 RPM while self-propelling. Cutting height for all the wheels is adjusted from a single lever making it easy to use.
The sideways mounted wash port comes in handy when you want to clean the underside Hook a pressurized hosepipe to it and clumped up clippings will fall off easily.
The engine is rear mounted ensuring that the lawn mower moves with maximum traction even on moist grass. When trimming shirt grass, you will never have to make a second pass.
Features & Pros:
Powerful 190cc for easy self-propulsion
Pull starter never fails
22-inch-wide cutting deck
Sturdy mild steel casing
Deck has washout ports
Cutting height adjustment on one lever
Cons:
Too large to be stored indoors
With two large 11 inch rear wheels, the Polan Pro is the best lawn mower for cutting grass short as it never gets stuck. Its 140cc centre mounted engine is powerful enough to mow on all terrains.
This lawn mower's biggest selling point is that it has a high output engine that never compromises on fuel economy. According to consumer reports, this lawn mower has a 4 and a half (out of 5) power rating. The Poulan Pro PR500N21SH is an upgrade from its predecessor, the Poulan Pro 625, as it makes use of a vertical shaft engine thereby having a lower exhaust gas emission
Features & Pros:
Choice of 11/12 inch rear wheel
Clean cutting 21-inch deck
Reliable 140cc Briggs engine
Side Discharge/mulching capability
Easy to manoeuvre
Cons:
Cannot support a clippings chute
Lawn Mower Buying Guide
Many people look for different features when shopping for the best lawn mowers but the most paramount ones are the engine size, functionality and ease of use
1. Engine size
Typical push and self-propelling lawn mowers have smaller engines of up to 200cc. With a larger engine, the lawn mower is able to trim grasses in tougher conditions such as on steep yards but it uses up more gas. Larger (150cc and above) engine lawn mowers are used to mulch yards while toning down growth of weeds.
2. Lawn mower features
There are three ways as to how lawn mowers treat clippings. Mulching lawn mowers (which are the most desirable), trim grass cuttings into even finer pieces before spreading them back on the cut grass.
In addition to protecting the grass from the sun's harsh rays, mulches help in enriching the soil too. Bagging lawn mowers either have a dedicated compartment or external chute where clippings are collected. These cuttings need to be emptied as you cut.
The most popular entry-level lawn mowers have a side discharge. Here, the grass flies off from the blades onto the grass. You will be required to rake up the clippings in most cases
3. Ease of use
Walk mowers need to be pushed by the operator. The engine or motor is only responsible for spinning the rotor blades. Self-propelled mowers, on the other hand, have powered wheels and the operator is only required to make turns or manoeuvre obstacles. Self-propelled ones are desirable for obvious reasons.
Frequently asked questions
1. What is a washout port in a lawn mower?
All modern lawn mowers have a washout fitting. Using this nozzle, you connect a pressurized hose pipe to the lawn mower and was grass clumping on the underside. Cuttings and earth debris tend to accumulate on the rotors impeding their efficiency
2. Why do lawn mowers have small wheels at the front and larger ones at the back?
The front wheel is mostly used for cornering and its designed small so as to increase agility. The larger rear wheel, often found in self-propelling lawn mowers helps in increasing the mower's traction to the ground.