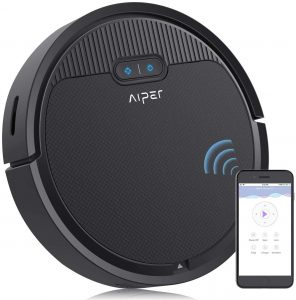 Robotic vacuum seems expensive to many. Right?
But I can assure you they aren't. Yes, there are those costly models, but you can also find high-performance models with a budget-friendly price. Today, you can buy a robot vacuum under 150 dollars, which will help you clean the house while you relax, when you're out for business, or when you are busy doing other important things.
Today I will be looking at the top best robot vacuum cleaner under 150 and how you can buy one. I have gathered high performing, and top-rated models brought them together and created the following review. I have also prepared a buyer's guide, which is aimed at helping you find a model that you can take home. So, read it through to the last sentence as everything in this article is of importance.
What Makes the Best Robot Vacuum Under $150
Just because you're buying a robot vacuum that does not cost you an arm or a leg, it doesn't mean you can pick any model that you come across. You need to make sure that, the robot vacuum you buy serves you the way you want it to, while also meeting other functional requirements. The following considerations will help you make the best choice.
Floor Type
The floor surface texture plays a role in how well the robot vacuum will suction up dirt, dust, and small debris. Typically, the budget-friendly robot vacuums perform well on hard floors, light carpets, and light-colored tiles. So, you need to make sure that the robot vacuum you buy is ideal for your floorings.
Pets
Do you have pets? As we well know, pets shed lots of fur and dander, and because of that, you need a robot cleaner that can pick up anything your pets leave behind, including the litter. That means you need to check if the robot vacuum you're about to buy has the right brushes and filters to deal with any mess. The best type I can recommend is the HEPA filters as they can eliminate microscopic allergens and dander.
Wi-Fi Connectivity
Connectivity allows you to enjoy a hand free cleaning. By programming the device right from your smartphone, you can set it to automatically clean the house while you rest or when you're away for business. Connectivity can be through Wi-Fi, Remote control, or through Bluetooth. The best one is the WIFI as you can control it wherever you are, but with the remote and Bluetooth, you will need some area proximity.
You will also come across some that combine WIFI with Alexa, allowing you to control it through your voice. Ensure that the robot vacuum you pick has one of the above for an easy hand-free controlled cleaning.
Battery Life
Yes, you have the robot vacuum cleaner, but will it clean your house entirely before it runs battery low? The robot vacuum run time should allow it to clean your home and have some power left to go back to the charging dock. The larger the battery mAH rating, the longer the runtime.
Auto-Docking Recharge
Another feature to consider is the auto-charging dock. Since the robot vacuum runs on a battery, and the battery will run out, it needs a place to recharge. When the robot cleaner detects it is running out of juice, heads to the docking station automatically to restore. That means no need to babysit it. Not all budget-friendly models come with this feature, so pick wisely.
Cleaning Modes
A robot that can clean different places and floors comes with varying modes of cleaning. Your robot vacuum should be able to clean the edges, corners, under the furniture, carpets and along the edges. When you consider this fact, it means you need a robot cleaner that can scrub, loosen, suction, and filter for the job to be complete.
Read Also: Best Robot Vacuums for Garage
Best Robot Vacuums Under $150 in 2021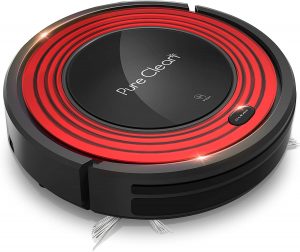 My first best robot cleaner under 150 is the Pure Clean PUCRC95 Robot Vacuum. It's a programmable automatic robotic cleaner ideal for cleaning carpets, hardwood floors, and pet hair. It features a scheduled activation which utilizes the programmable scheduler to auto self-activate at the scheduled time when you're away. It also uses a mighty 24w suction power together with rotating sweeper which eliminate the need for a rotating under-brush.
Additionally, this robotic cleaner uses double rotating brushes which are two sweeping side brushes that lengthen the reach of the device and rotates to catch all the debris and dirt on an open floor or even along the walls and edges of the house. Its low profile design allows fitting under the furniture, thus cleaning every inch of the house.
Features & Pros:
Programmable scheduler
Automatic recharge dock
Twin rotating brushes
Powerful suction
Low mini profile
Cons:
Random path
Small Battery Life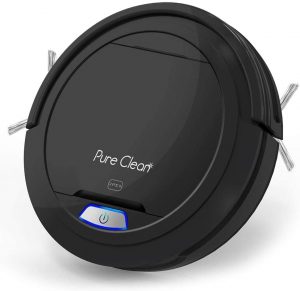 My second product is the powerful Pure Clean PUCRC26B robotic cleaner. As an automatic vacuum cleaner using a lithium battery and with 90-minute run time, it's a machine that can clean carpets and hardwood floors with scheduled time. It's a versatile and convenient cleaning robot that will take away the hassle of cleaning your home.
Additionally, with its smart low profile design, the robot slides smoothly under the furniture, ensuring no place is left without cleaning. With its dual spinning side brushes, this device can ensure that all debris and dirt in the house are cleaned including the corners and edges. Also, I would love you to know that it utilizes obstacle detection, which allows it to clean around the household objects.
Features & Pros:
Upgraded Lithium battery life
Improved obstacle climbing
Advanced programming
One-touch go operation
Anti-fall cliff sensors
Thin low profile
Cons:
A bit noisy
Small dust bin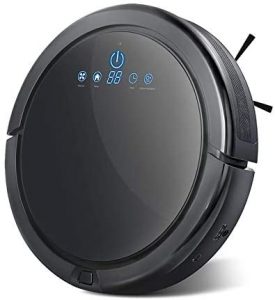 The next up is the Mooka Auto Robotic Vacuum that is designed to deliver powerful suction and ultra-quiet operation. It's ideal for wooden and tiled floors not forgetting the light carpets. And being an upgraded 2018 version, its cleaning capability outperforms even the 2019 models. Its self-charging system provides it with 2600mAH for around two cleaning hours, and that impressed me a lot.
With its auto mapping cleaning, the Mooka Robot cleaner can seamlessly navigate all through your home while keeping track of its location, the places it has cleaned and the recharging as required until the job is done. Its anti-drop and anti-collision sensors ensure it does not fall off the stairs or hit the home obstacles, thus allowing it smoothly clean your home.
Features & Pros:
Convenient Quick Disposal Dust Bin
Built-in Rechargeable Battery
Self-Programmed Cleaning
Smart Path Navigation
Low-Profile Design
Powerful Suction
Cons:
Unable to climb some flooring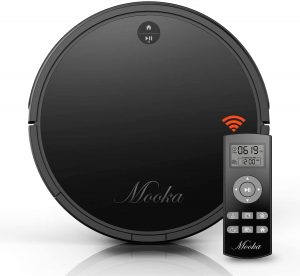 The Langbo Robot vacuum is the next best robot cleaner under 150. It comes as a powerful self-charging, ultra-quiet automatic robotic cleaner ideal for cleaning pet hair, tiled floors, carpet floors, and the hardwood floors. Its structural innovation design allows the vacuum to do all the home cleaning quietly without disturbing your break time.
With this Langbo Robot Vacuum Cleaner, you will be able to achieve your desired cleaning effect. It comes with a low profile design which allows it to slide and maneuver under furniture for a thorough cleaning easily. The device also utilizes a combination of the roller brush, side brush, and an extractor to effectively remove all the dirt and debris from your house.
Features & Pros:
Automatic Docking and Self-charging
A clean dust identification system
Ultrasonic sensing technology
Strong Cleaning Effect
Ultra Quiet operation
Powerful Suction
Cons:
No virtual barriers
Struggles to clean hardwood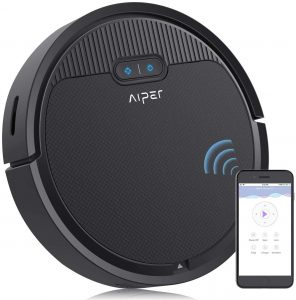 Lastly, there is the Aiper Automatic Robot Vacuum. It's a robotic cleaning vacuum that you can rely on to automatically clean your thin carpets and hard floors. The safety detect system utilized by the Aiper Auto Cleaner allows it to set virtual walls to avoid falling while also sensing furniture, pet, or human body while doing the cleaning.
The brushes and the wheels on these devices are designed to be tangle free and to pick up any pet hair on the floor quickly. Additionally, by connecting this robot to your smartphone through an app and Bluetooth connectivity, you can program its cleaning time, allowing it to do the cleaning even when you're out for work.
Features & Pros:
Customized and scheduled cleaning
Intelligent Detect System
High Suction and Cleaning
Multiple Cleaning Mode
Perfect edge cleaning
Cons:
Navigation issues
Middling battery life
FAQ
Do the type of wheel matter when selecting a robot vacuum for carpet cleaning?
Absolutely! Different wheels perform differently on various surfaces. You need to make sure they are designed to work on your carpet type. Mostly the budget-friendly robot vacuums work well on low-pile carpets, so you have to make sure it moves smoothly.
Can my robot vacuum battery be replaced?
Absolutely! Robot Vacuum batteries have a lifetime, and when they're in a bad state, you will notice. The charging time reduces, the run time goes down, and the robot power reduces. That's the time you need to think of having it replaced.
Conclusion
With the increasing competition in the robot vacuum cleaning industry, several manufacturers are trying hard to coop with the trend by producing budget-friendly models. All the above products are top best robot vacuum cleaners you can buy in 2021. Choose wisely and get to enjoy hands-free home or office cleaning.