I think you will agree with me when I say pets are fun companions. Right? When you have a dog at home, playing with it keeps you away from stress while also keeping your kids busy.
However, the dogs leave a real hair mess as they cruise inside the house. It's a mess that requires a special robotic vacuum to have it removed.
So, how and where do you find the best robot vacuum cleaner? That shouldn't be a problem for you. With this article, you will be able to know the top best robot vacuums for dog hair available and the simple way to buy one. I have researched hard to ensure that you get the right model that cleans all the dog hair in your home. I suggest you read it to the end and thank me later.
Top 5 Best Robot Vacuums For Dog Hair In 2021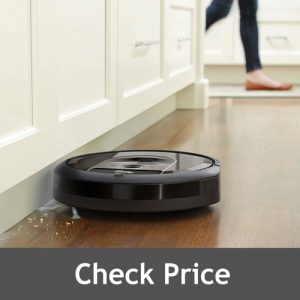 The first best robot vacuum for dog hair is the iRobot Roomba 690 robot vacuum. It's a high-performance cleaning robot that works with Alexa and Wi-Fi connectivity. It's ideal for cleaning pet hair from carpets and hard floors.
The device uses a three-stage cleaning system which is designed to loosen, lift and suction debris and dirt of any size. It also features a Dirt Detect system which alerts it to clean the more dirt concentrated areas thoroughly.
Furthermore, through its dual multi-surface brushes, this robotic vacuum can pick everything from small to large. The dual mode virtual wall barrier allows the robot vacuum to freely clean your house without falling over the stairs or even hitting the furniture or other home obstacles. Its low profile design is also a great feature as it allows it to maneuver under the furniture, thus collecting all the dog hair all over the house.
Features & Pros:
Compatible with Amazon Alexa
Patented Dirt Detect sensors
Dual Multi-Surface Brushes
Dual Mode Virtual Barrier
3-Stage Cleaning System
Sleek, premium design
Cons:
Moderate build quality
Can't Clean High Carpets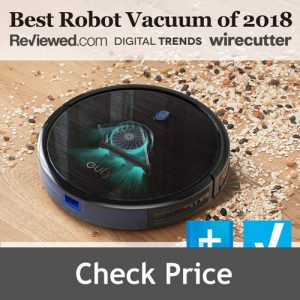 The second product is the Eufy RoboVac 11, which is a high-performance, self-charging robot cleaner that utilizes self-charging technology always to be ready for the task at hand. The robot is designed to handle the cleaning of hard floors and thin carpets.
Its high-performance filter and the mighty suction power ensures there is no pet hair, dirt, or debris left in your home.
By utilizing the powerful suction, rolling brush and the two side brushes, this device can give your floors and carpets a thorough cleaning. The system allows it to loosen the dirt effectively, extract it from the floor and then effortlessly vacuum it into the dust collector. Additionally, it utilizes a triple-filter system which consists of two filters and a high-performance filter to ensure it achieves a clean home.
Features & Pros:
High-Capacity Li-ion Battery
Versatile cleaning modes
3-Point Cleaning System
High-Performance filter
Low-profile design
Powerful suction
Cons:
Not fit for high-pile carpet
Not ideal for very dark-colored floors
The third best robot vacuum for dog hair is the ILIFE V3s Pro Robotic Vacuum. It's a newer version of the famous ILIFE V3s Robotic Vacuum. As an upgraded model, this vacuum can deal with dog hair on hard floors as well as on the low profile carpets.
With this vacuum cleaner, you will be able to keep your home clean from edges, corners, wall-sides, and even under the furniture.
Furthermore, the robot vacuum cleaner works well with convenient scheduling, which allows you to use a remote to preset the cleaning time you need it to run. I also loved the automatic dock and recharge, which helps the V3s Pro to automatically return to its dock for recharging when it completed the cleaning or runs low on battery.
Features & Pros:
Smart anti-bump sensors
Pet hair care technology
Programmable schedule
Low profile design
Easy operation
Self-charging
Cons:
Slow Vacuuming Speed
Slight improvements on V3s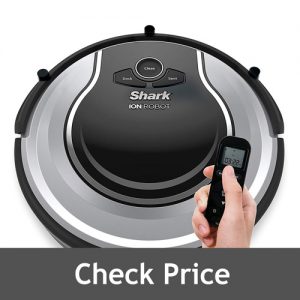 The next best robot vacuum for dog hair is the Shark Ion R75 Robot vacuum. It's a voice-controlled deal action carpet and hard floor cleaning vacuum that works with Amazon Alexa. Being a Wi-Fi enabled device, you can control it from your smartphone using its dedicated app. Wi-Fi connectivity and voice control allow you to schedule the cleaning time.
Additionally, these devices use a smart sensor navigation system to seamlessly navigate the carpets and floors while also using proximity sensors to assess and adapt to home surrounding obstacles.
Its low profile design allows it to smoothly slide under the furniture and suck all the dirt and dog hair that might have found its way there.
Features & Pros:
Seamlessly smart sensor navigation
Long-life lithium-ion battery
Dual spinning side brushes
Self-cleaning Brushroll
One-touch activation
Cons:
Alexa device sold separately
Lastly, we have the Roborock E20 Robot Vacuum. It comes a sweeping and mopping vacuum cleaner that will help you deal with pet hair and dust mess on your carpets and floors. The Roborock utilizes regular cleaning.
The vacuum dual-gyroscopes and the high-precision optical tracking sensors work together, allowing it to clean all around you methodically the room without leaving any spot uncleansed.
Furthermore, the unit also uses a full suite of sensors to provide it with the intelligence to efficiently tackle any challenging environments without running out of power or for the worst falling off the ledges. You will also be impressed to hear that it utilizes multiple cleaning modes to ensure that not even a single spot is left uncleansed while furthermore guaranteeing the embedded dirt is removed effectively.
Features & Pros:
Efficient and intelligent
Reliable onboard sensors
High-efficiency cleaning
Motion tracking sensors
No random bumping
A dual-gyro system
Fast cleaning
Cons:
Small Battery Life
Small Dirt Bin
Best Robot Vacuums For Dog Hair : Buying Guide
When you are making your choice on the best robot vacuum for dog hair, you will need to be keen on some features and factors to make sure you buy the right model. I have provided a list of these considerations, and they should make the search super smooth for you.
Suction Power
Dog hair can be a mess when spread on the floor and carpets. It can also be stubborn to eliminate unless you're using the right vacuum. That's why I recommend you buy a robot vacuum with a mighty suctioning power which will ensure that it collects all the hair and litter left by your dog. It should be able to pull even the smallest needle-like hair lodged between the carpet fibers.
Type of brush roll
Those traditional bristle brush roll that uses the stiff bristles can be ideal for digging into carpets and pulling up the dog hair and dander. However, they aren't the best as the hair might get lodged to them. Some robotic vacuums combine blades with bristles to get better cleaning results.
Some even come with rubberized rolls which are great at attracting the hair and other dirt. Some also come with tangle-free brush rolls which are ideal for pets with long hair. So, it's up to you to make the best choice for your needs.
Dirt Cup Size
If the robot vacuum comes with a small dirt cup, the pet hair picked might get packed inside quickly and fills up before you get time to empty it. In case that happens, it will block the air flow, which will reduce the suction power. Pick a model with a sizeable dirt container, especially if you have several dogs in your home.
Filtration
Dogs do not just shed hair; there is also the temper which can be allergic to some people. You need a robot vacuum that can effectively filter the allergens before the air gets out. The filters should be able to collect all the micro dust, dander, and dust mites. HEPA approved filters are the best as they are 99% efficient in filtering this kind of particles.
FAQs
Is Shark IQ robot loud?
Shark IQ is one of the best, powerful, and practical robot vacuum for dog hair and other pets. One of its disadvantages is that they are a little loud, and it will take them almost seven days to learn the design of your home and unlock all the available features. However, it is very affordable and powerful than other types of robot vacuums hence worth buying.
Which Roomba is best for pet hair?
The Roomba robots come with features that make cleaning pet hair very easy. They are the best robot vacuums for cleaning dog hair, and as you know, dog hair can be tough to clean. Therefore, when it comes to choosing one that is the best for pet hair, choose one with the most features. One with dual multi-surface brushes made from rubber has been created explicitly for removing pet hair and will likely be the best.
Is the Roomba or shark better?
If you are under a tight budget, then a shark vacuum will be the best choice for you. All shark vacuums for removing pet hair are very quiet and tend to outperform the Roomba vacuums. However, if you are very loyal to Roomba, you should go for it, but we recommend shark as it has more suction power.
Finding the best robot vacuum for dog hair is now easier than ever. With the above information, you should be able to settle on a model that cleans your floors and carpets free off pet hair, dust, dirt, and debris. Always consider your budget and the price factor before making your purchase. The robot vacuum you buy should be at your price range.